If you are interested in joining the
Group Discussion on Musings, it starts today!
Interact with the authors and fellow readers:
Saturday, July 15, 2017:
12:00 PM EST- Better Than Yes by Susan K. Swords
5:00 PM EST- Slash Pine by Tara Severance
Sunday, July 16, 2017:
12:00 PM EST-House Rules by Morgan Locklear
Request to Join the group here:
https://m.facebook.com/groups/627582337447739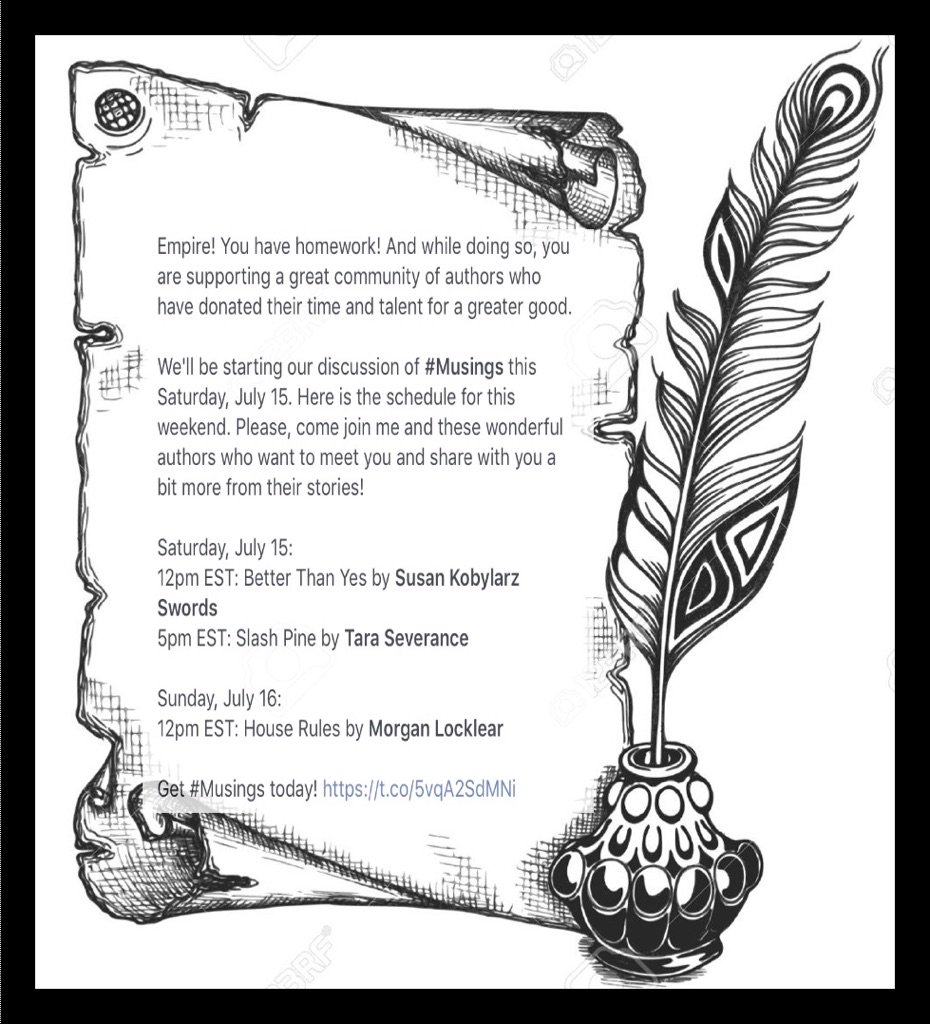 Musings  – An Argyle Empire Anthology
This slideshow requires JavaScript.
Authors:
Becca Vry | @BeccaVry,
Kris Babe| @writingbabe,
Shari Ivey | @AuthorShari,
Tara Severance| @TeeDot,
Susan K Swords | @SKS_words,
Jennifer Locklear | @RandomCran,
Morgan Locklear | @MJLocklear
Genre: Comedy. Romance. Suspense. Fantasy. Drama. Prose.
Add to your TBR: http://bit.ly/2qseSxp
★Synopsis★
Seven friends inspired to raise awareness and funds for homeless youth in crisis.
Seven authors with a love for storytelling.
Nine original stories with themes every reader will love.
Comedy. Romance. Suspense. Fantasy. Drama. Prose.
Individual reflections combined into an eclectic collection.
All proceeds to benefit the Philadelphia chapter of Covenant House,
in loving memory of Terry Aisenstein.
Foreword by Sylvain Reynard.
★Buy Links★
Amazon US http://amzn.to/2sap4XH
Amazon UK http://amzn.to/2rxr0x2
Amazon AU http://amzn.to/2qurzU3
Amazon CA http://amzn.to/2qz9yTQ